RCB for waste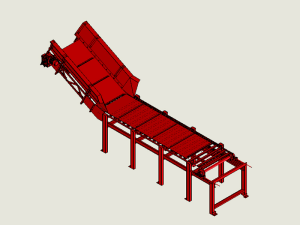 The belt conveyor is designed to be built in the processing line for unloading, conveying and feeding of solid domestic waste for packaging and subsequent processing.
The conveyor belt of the sorting equipment is of a roller-chain type with a width of the rubber belt varying from 1000 up to 1400 mm. The rubber belt is attached to the roller chains with special bearers.
They are mounted at regular spacing of 600-1000 mm with angular ribs to prevent load shearing.
The driving power is determined in accordance with the experimentally established velocity, efficiency and specific resistance of the roller chains and bearers.

The chain guides are made of wear-resistant steel HARDOX ensuring long operation.