Screw conveyors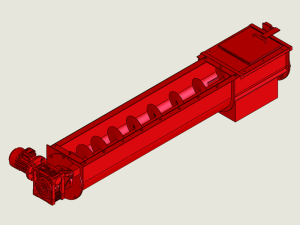 Screw conveyors are used for the transportation of bulky materials (in the form of powder, grains, lumps, etc.)
They are not designed for chemicals, corroding or liquid materials, nor for materials having a temperature over α=200°.
They are produced in two options: normal, reinforced (for abrasive, fast to wear out materials) or made of stainless steel. They can be tubular or trough-shaped (U-shaped).
We manufacture conveyors with a length up to and over 30 m and output up to Q=100m3/h. We have also made attempts at and have developed screw conveyors with the screw diameter from Ø=50 mm up to Ø=400 mm.